A tarpaulin, or tarp, is a large sheet of strong, flexible, water-resistant or waterproof material. Tarpaulins normally have reinforced eyelets at the corners and along the sides so that rope can be threaded through, allowing them to be tied down or suspended. Tarpaulins come in multiple sizes and colours and are normally made from either PVC (550g or 700g) or rainguard, also known as Woven polyethylene.
Difference between a PVC Tarpaulin and a Polytarp
PVC is a strong but heavy-duty material, available in 550g or 700g, made from natural or synthetic fabrics which are laminated or coated with a waterproofing. It is a durable material that is easy to clean and available in multiple colours.
Woven polyethylene, also known as rainguard, is a woven synthetic material with a laminate. It is light weight, easy to clean and available in multiple colours.
The PVC is a stronger material, more durable material, that generally lasts longer. While the rainguard is a cheaper, more light weight material but it doesn't last as long and once hooked frays quickly.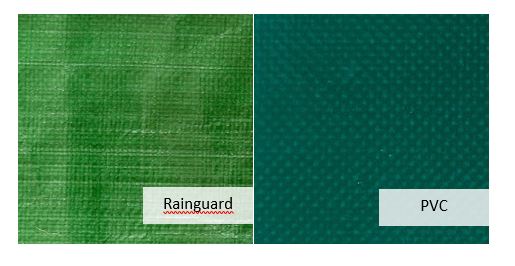 Tarpaulin Uses
• Cover building supplies, such as sand, to protect them from the wind and rain.
• Cover equipment that is stored, either from the rain if stored outside or from dust if stored inside.
• Cover goods during transport
• Line the back of a vehicle or car to load plants or building supplies, to protect the vehicle or to keep it clean.
• Cover patio furniture to protect it against the weather
• Cover cricket pitches during bad weather conditions
• Suspended outside (temporarily) to create shade on a warm day
• Ground sheet for camping
Tarpaulins can be used for multiple applications, as mentioned above. SA Canvas is a tarpaulin manufacturer who provides quality PVC and rainguard tarps in South Africa. If you would like to find out more contact us!